Awesome Sauce!
What a crazy long trip going from Silverstate to Neobuggy. Silverstate is just a blurry memory after all the work that went in to my Neobuggy trip this year.
Once we landed over in the UK, we got the cars ready for practice. During practice everything was awesome. Pro-Line tires were the ones to have, my set-up from last year was good, things looked great. I seeded 2nd in E-buggy and 4th in nitro buggy, so we were very pleased with the way things were going.
Once qualifying started, it was a different game. For some reason our normal tire choice wasn't so quick, and we had to start trying some things. Mid-way through qualifying the talk in the pit was that clay compound tires were working. Ty Tessmann brought a couple pairs on a hunch, but we didn't bring any. Toward the end of qualifying, the AKA guys suddenly came up with some clay tires, and they were back in the game after looking horrible early. We struggled with getting the cars right for qualifying and would qualify ninth in the e-buggy and 20th in nitro buggy. There were absolutely no clay compound tires to be had until Monday, suddenly Craig Drescher popped up with MC compound Ions. We ended up getting these just before the nitro buggy semi practice, but they were the ION tread and not the Electron that Ty was running. Regardless what tread design we had, I still gained a second a lap with clay compound (MC). Of course the question now was would the Ions last 45 minutes if I got in the main?
With an unfortunate issue in the e-buggy semi, I would not make the main and it ended my e-buggy chances. My luck wasn't much better in gas buggy. I started 10th on the grid in the B semi, and I got in a lot of traffic trouble early in the race. After battling back into a transfer position, my car died leaving pit lane, and again I was in trouble. I was thinking what a horrible thing to travel to Europe and work so hard and not make the main. I kept my head in the game and managed to squeeze into the LCQ by finishing 9th.
Going into the start of the LCQ I knew it was going to be rough racing, and it was. I would get sent off the track on the first jump and stuck on the wall with no marshal around. Once the marshal got to me I was far back in the rear of the pack. I was thinking to myself, "wow, looks like I'm not going to make the Neo main this year," But I've always tried hard to never give up, so I put my head down and went to work. It was keeping me focused when my dad said I had fast lap and I was the fastest car. Also he was telling me how many more cars I needed to pass to get in the final. Well I did pass those cars and got myself into 2nd position after passing Jorn Neumann to make it to the main on grid position 14. So relieved! Also I did the fastest lap of the event up to that point, 31.7.
At the start of the final there was a little rough driving, but then people spread out a little. I would make it to about mid field, and then the very tight racing line came into play as people's tires wore down. I really did everything I could starting out the race on a small pin tire like the Ion. I felt like the compound was more important than the tread so I took a gamble with that. It got difficult to drive once the tread wore down because the clay compound is more firm. I think if I had clay tires with bigger tread, like maybe Suburbs, it would have been really good. I was battling for a top 5 on clay slicks, and ended up 7th in the end. I don't really feel bad about it because I did all I could do. It's just not possible to have every tire you could need in every corner of the world, and this race you needed some luck with the tire stuff. It was a fluke that some of the drivers had certain tires that helped them go faster. Clay compound tires have not worked at this track in the past, but next year we will have the right tires!
Sauce-gate!
The tire additive thing got pretty ridiculous. People were saucing all over the place, and the Procircuit "tire cleaner" was a popular choice. The hobby shop outside the venue made a small fortune selling that stuff. I'm not sure what's in it, but it could burn your face off I'm sure. Other people were using WD-40. On Monday the race directors declared sauce legal because it was so wide spread and supposedly there was no rule in place banning it, or no way to enforce it. I'm proud to say I didn't use any sauce in the final. I feel strongly that tire additive was NOT a major factor in the final outcome. It was more about having the right compound and tread design with you. I have to say there is a little luck involved sometimes. If we happened to bring a few pairs of MC Suburbs in my bag, who knows what might have happened.
Well that's pretty much it. I want to say a big thank you to all my sponsors, and especially our Kyosho team that made a strong showing at this event. Also Marco Rossi and Reds Racing for the support at the track. Phil and the DXR crew for another amazing track. Thanks to everyone that makes this event possible. See you at neo16!
Last Chance Saloon (LCQ) race: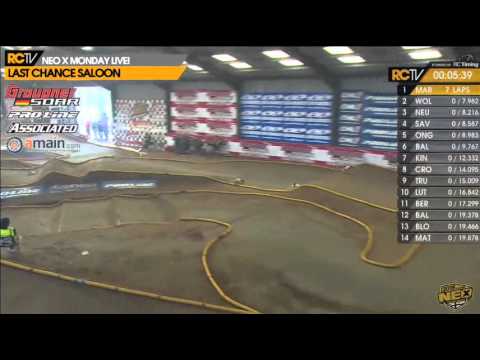 Neo X Finals Day overview: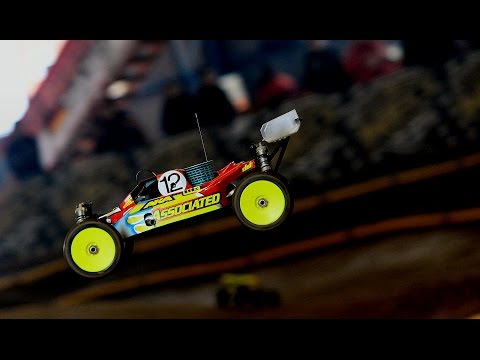 Pictures: